Spring Hoop Fest
NCAA-CERTIFIED
Travel Teams Only
Live Results
View Live Scores, Schedules and Pool Standings for this tournament
Past Results
View archived results from past tournaments
Basic Info
Three (3) Game Guarantee
Six (6) Games Possible
National High School Rules
Top Nationally Rated Teams
17U Division Teams
16U Division Teams
15U Division Teams
Tournament Headquarters
The American Sports Centers (25 courts) – Headquarters
1500 S. Anaheim Blvd.
Anaheim, CA 92805
All AAU Coaches must check-in at the American Sports Centers (Headquarters) on Friday, April 27th.  If you are scheduled for the 6:00pm game, you must play your first game, then register your team immediately following your game. VALID GOVERNMENT-ISSUED I.D. REQUIRED.
Following NCAA Rules and Regulations, all Team Coaches should have obtained their USA Basketball GOLD License and all players should have viewed the required NCAA video prior to arrival and check-in.  If a coach or player is not listed on the team's roster upon check-in, they will not be able to participate in the tournament.
FRIDAY
Games will begin at 6:00pm on all courts. Last games on Friday will start at 9:30pm
(games every 1 hour and 10 minutes)
SATURDAY
Games will begin at 8:00am on all courts. Last games will start at 8:50pm
(games every 1 hour and 10 minutes) – SUBJECT TO CHANGE.
SUNDAY
Games will begin at 8:00am on all courts. Last games on Sunday will start at 3:00pm
(games every 1 hour and 10 minutes) – SUBJECT TO CHANGE.
PLEASE ALLOW EXTRA TRAVEL TIME TO ARRIVE AT YOUR GAMES EARLY. DO NOT BE LATE TO YOUR GAMES. FORFEIT RULES WILL APPLY.
NOTE: During Peak travel times between 6:00am to 9:00am and 3:00pm to 8:00pm freeway traffic will be slow.
Cost
$550.00 entry fee (+ additional 2.9% processing fee for credit card payments)
REFUND POLICY
Please read the Double Pump Basketball Refund Policy ("Policy") carefully.  By registering for a Double Pump Basketball tournament, you are confirming that you have read and understood the terms of this Policy.
A full refund (less any processing or bank fees) will be issued upon written notice by email to Double Pump at doublepumpevents@gmail.com no later than 8:59pm (PT) on March 30, 2018.
A 50% partial refund (less any processing or bank fees) will be issued upon written notice Double Pump via email to doublepumpevents@gmail.com no later than 8:59pm (PT) on April 17, 2018.
NO REFUNDS will be issued after 9:00PM (PT) April 17, 2018.
NO EXCEPTIONS
Any failed payment (declined credit/debit card or returned check) must be resolved within 72 hours of notification by Double Pump or a loss of your tournament spot may result. Resolution of payment MUST BE in cash + $35 NO EXCEPTIONS.
Double Pump Inc. reserves the right to refuse participation to any team/organization for non-payment and/or non-compliance per the terms of this Policy.
Entry Deadline
March 31, 2018 or until filled.
Travel Team Coaches - Important!
NEW CERTIFICATION PROCEDURES (updated 2/1/18) – The NCAA Enforcement Certification Approvals Group ("ECAG") has implemented a new certification process for travel team coaches and players.  It is the responsibility of the coaches to be familiar with the new guidelines and to ensure that teams are in compliance.  Event Operators are required to abide by the NCAA ECAG guidelines in order to maintain their certification.  To help guide you, we recommend clicking on the hyperlinks below for more information.
DON'T WAIT! Start the certification process early and allow up to 3 weeks to complete all of the requirements.  Here's what you need to do:
Coaches must obtain their USA Basketball Gold License which includes the mandatory background check. NOTE: coaches who created an account in the 2016- 17 season may use the same login but they must renew their account and

not

create a new one.
Coaches must create an account in the ECAG Basketball Certification System ("BBCS").  NOTE: coaches should renew their previously created account and not create a new one.  This is done by logging in to their existing account and updating the information on their profile rather than selecting the "Register as a New User" button.  You will not be able to create or renew an account until you've obtained your license.
All Prospective Student-Athletes ("PSAs") must create an Athlete User Account in BBCS and watch the mandatory educational videos.  If a PSA does not create an account and watch the mandatory videos, he is 

not

eligible

to participate in any NCAA-certified event and cannot be added to any roster.
For more information, download the NCAA ECAG MANUAL and refer to the "Basketball Certification" section starting on Page 11.  You'll find step-by-step instructions on:  (i) Obtaining your USA Basketball Gold License; How to Create a BBCS account; and Bench Creation and Roster Creation.  NOTE: All teams must adhere to the "Adjoining State Rule" before finalizing any roster; for more information refer to the "Event Participant Residency Requirements" section in the NCAA ECAG Manual starting on page 87.
Visit the NCAA Basketball Certification site for more information.
College Coaches Only
Recruiting packets will be available at 6:00pm on Friday, April 27, 2018 at the The American Sports Centers. Cost of the packet is posted on the NCAA website at www.ncaa.org/basketballcertification
Admission
FRIDAY – $15.00 ALL DAY
SATURDAY – $15.00 ALL DAY
SUNDAY – $15.00 ALL DAY
Air Travel Information
Los Angeles International Airport (LAX)
Los Angeles, CA
Long Beach Airport (LGB)
Long Beach, CA
John Wayne Airport (SNA)
Orange County, CA
Travel Information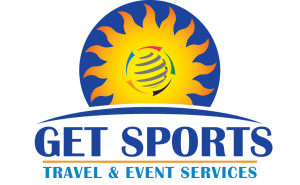 Double Pump has teamed up with GET Sports Travel for all of your travel needs, including:
Air Travel (into Los Angeles International Airport, Long Beach Airport, and John Wayne Orange County Airport)
Rental Cars (with all major brands located at the above airports)
Discounted Tournament Hotels (in Anaheim, Garden Grove, Cerritos and Surrounding Areas)
Discounted Local Attractions (Disneyland® Resort Parks, Knott's Berry Farm and Universal Studios)
New MVP Offers (discounted meals, activities and shopping)
Please call them at 888-877-4445 ext. 3 or visit their website.
Map
Game Rules
National High School Federation rules will be followed with the few exceptions listed below.
Each player will be allowed a total of six (6) fouls before being disqualified.
All games will be played in two (2) sixteen (16) minute halves. Overtime is in 2 minute periods.
There will be a two (2) minute break between halves.
Teams will be allowed to call two (2) full timeouts and one thirty (30) second timeout during the regulation game. One additional thirty (30) second timeout is added for each overtime session.
There will be a minimum of a three (3) minute warm-up period between games.
No game will begin before the time listed on the official game schedule.
Players are allowed to play for

one team

only. The first team a player plays for is his official team. If a player participates for any other team, that team will forfeit the game(s) and the player will be ineligible to continue in the tournament.
All players must have high school eligibility remaining or going into their first year of prep school. Any violation will result in forfeiture of games.
All players must be legal residents of the state in which their team is located or be a legal resident of a geographical adjoining state. No more than three (3) players from adjoining states may be on a team's roster. Any violation will result in forfeiture of games.
In pool play, the team listed first is the home team and will wear light colored jerseys. In bracket play, the home team is listed first in the game numbers schedule and will wear light colored jerseys.
Final pool standings are determined by win-loss records within the same pool. Tie breaking procedures are: 1) Head to head competition in a two way tie 2) Point differential in all pool games with a maximum of fifteen (15); (10) for a forfeit. 3) Defensive points allowed in all pool games. Once the highest place team is determined by the process above the sequence is repeated one step at a time, beginning with win-loss record, until all places are determined. If all categories do not determine the order of finish, a coin toss is utilized as a final step.
It is a forfeit game if a team does not have five (5) players present within five (5) minutes after the scheduled start time of any game.
Questions?
Contact us at doublepumpevents[at]gmail.com or at (818) 905-7822 ext. 103